Carolina Building Contractors, Inc. is a North Carolina Licensed Building, Public Utilities and Site Contractor. We have been providing construction services in North Carolina since 2002 and are a Certified Service-Disabled Veteran-Owed Company. Carolina Building Contractors, Inc. has the ability to perform and specializes in complete turn-key Site/Utility packages for Multi-Family, Industrial and Commercial Projects.
From the initial planning and development stages, we combine client input, our staff's expertise and experience, and value engineering principles to develop a design Concept. We then work tirelessly with architects, engineers, inspectors, and the client throughout the project, to ensure we stay on schedule and cost over-runs are avoided. This guarantees delivery of an outstanding product built to meet the clients evolving needs.Exceeding the client's expectations is the over-riding goal on each project.
Safety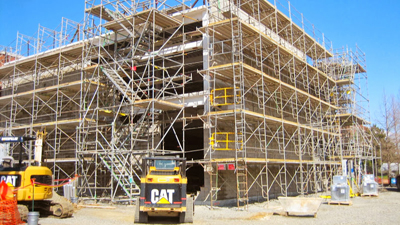 We Believe All Accidents Are Preventable!
In keeping with that philosophy, Carolina Building Contractors, Inc. has a designated Safety Director that is a certified OSHA trainer. We have a written safety policy and require compliance by all personnel will all applicable federal, state, and local guidelines and regulations.
Additionally, Carolina Building Contractors, Inc. has a strictly enforced "no use" illegal substance policy. All employees are required to submit to initial, as well as random, drug and alcohol screening.
Intangibles
Carolina Building Contractors, Inc. has developed a network of trusted professionals that we work closely with and who are eager to assist with your needs.
Whatever the challenge, the same degree of planning, teamwork, expertise and dedication to quality, is given to each project. Our team knows no other way.